RAYS OF HOPE from a hidden book trove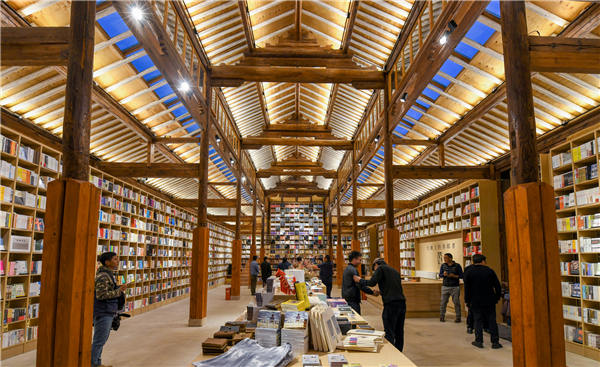 The owner of a celebrated chain of stores is unafraid to open outlets in the unlikeliest of places, Yang Yang reports.
In recent years Qian Xiaohua has been scouring some of the remotest areas of China looking for ideal places to set up bookshops. Qian, founder of the celebrated Librairie Avant-Garde bookshop in Nanjing, Jiangsu province, aims to build bookshops in villages for more than 10 ethnic groups in the country.
In November 2016 a casual visit to the ancient town Shaxi in Yunnan province left on him a deep impression of picturesque landscape and an area rich in history and ethnic culture.
Shaxi, which sits on the Ancient Tea-Horse Caravan Route, a trade route that started in the Tang Dynasty (618-907) and prospered in the Ming and Qing dynasties (1368-1911), used to be an important town that linked the ancient cities of Dali to the south and Lijiang to the north, through which traders would reach Shangri-La. It used to be inhabited by many different ethnic groups, and now 85 percent of the population are Bai.
After the tea horse road declined, Shaxi seems to have been forgotten by progress and overlooked by tourists, who gravitated in great numbers to Lijiang and Dali, until 2002, when the Sideng market square of Shaxi was added to the World Monuments Watch List of 100 Most Endangered Sites.
Ten months after Qian first visited Shaxi he returned, hoping to find an ideal location for a village bookshop under the Librairie Avant-Garde name.
Local governmental officials acted as his guide as he inspected possible sites, including ancient buildings that have been lovingly restored by a Swiss team led by the Chinese architect Huang Yinwu. Among them were the Kuige Tower and stage, Xingjiao Temple in Sifang Street, important Bai ethnic houses in Sideng Street and Guzong Alley.
Most Popular