Second spike warning for UK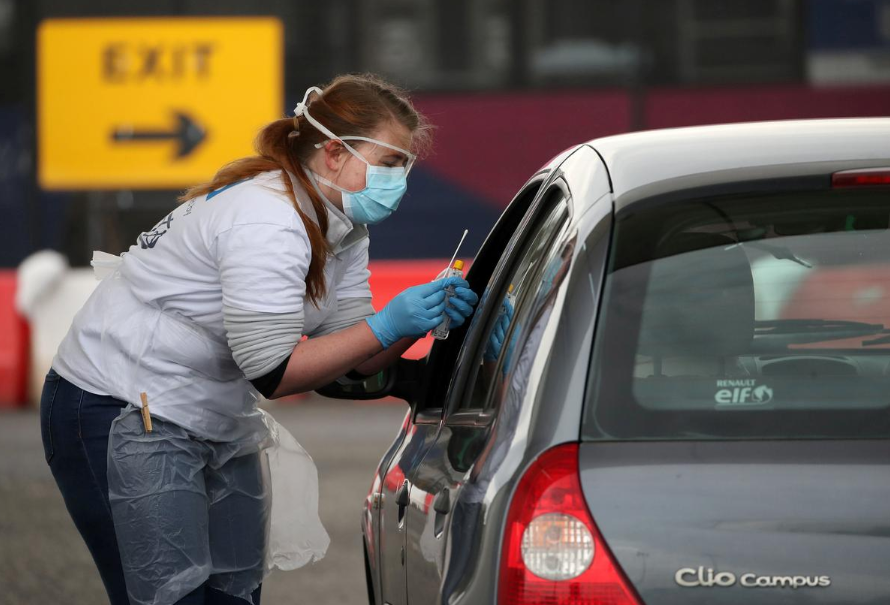 Downing Street accused of failing to prepare for another infection outbreak
Some senior National Health Service managers and healthcare experts have said the United Kingdom is not ready for a feared second spike in novel coronavirus infections, something that becomes more likely as the lockdown eases.
Martin Marshall, chairman of the Royal College of General Practitioners, told The Observer newspaper: "I think the criticism that we can't see a strategy is a legitimate criticism. That isn't a criticism at all of thoughtful people trying to do their best, but it is a criticism of the political agenda."
Marshall and others are concerned that, after the UK allowed some students back to school on June 1 and with more schools and most shops reopening on June 15, interactions between people are increasing and so too is the chance of new infections, and they want to know the government is ready.
Marshall said the apparent lack of a plan is worrying.
He said: "Clinicians working on the ground find it tiresome and difficult to work in an environment where things are changing every day and there's no sense of direction as to where we're heading."
Niall Dickson, chief executive of the NHS Confederation, added that, while the number of new infections is shrinking, the trend could reverse if the lockdown is eased too quickly.
"I think we absolutely don't want any more relaxation till we are confident that the test and trace system is working, both at national and local level," he said.
The Sunday Times, however, predicted the government will continue to relax the UK lockdown because of its desperation to get the economy moving, something that could save 3 million jobs.
And some critics argue that a second spike may be unavoidable anyway, because people are starting to ignore the rules.
That perceived growth in a disregard for the rules was apparent on the weekend when tens of thousands of people took part in crowded Black Lives Matter protests in the UK cities of Cardiff, Leicester, London, Manchester, and Sheffield.
Many protesters said speaking out about the death of a black man in police custody in the United States important enough to risk spreading the virus. The Guardian newspaper quoted one sign that read "There is a virus greater than COVID-19 and it's called racism".
But the UK's health secretary urged protesters not to risk a new spike in infections, no matter how important the message.
Matt Hancock said on the Sophy Ridge on Sunday show on Sky News: "The virus itself doesn't discriminate and gathering in large groups is temporarily against the rules precisely because it increases the risk of the spread of this virus."
But the opposition Labour Party's shadow foreign secretary, Lisa Nandy, said on The Andrew Marr Show: "You cannot be silent in the face of racism and police brutality and those young people are right to raise their voices and demand change."
Nandy was also vocal on the prospect of the UK temporarily relaxing its Sunday trading laws, something The Times newspaper said is imminent as a way to increase shopping hours, so people can avoid crowds.
Nandy said allowing supermarkets to open all day on Sunday would be the "wrong thing to do".
"I'm not convinced this will help get the economy back on track," she said. "We've been applauding our frontline workers, and supermarket workers are among those. They are worried what this will mean in terms of time with their families."
Meanwhile, The Sunday Times reports that secondary school students will likely have their exams delayed again next summer. The paper said exam regulator Ofqual is mulling holding summer 2021's exams in July instead of May because students have missed so much studying time.
An Ofqual spokeswoman told PA Media: "Our overriding aim is to ensure exams and assessments are as fair as possible and we are working closely with the Department for Education, exam boards, and groups representing teachers, schools, and colleges, to carefully consider a range of possible measures."
Meanwhile, epidemiologist John Edmunds, who is a member of the Scientific Advisory Group for Emergencies, a body that advises the government, repeated on Sunday his claim that the UK's novel coronavirus lockdown "should have happened earlier".
He admitted it "would have been hard to do it" but said it would have saved a lot of lives.
Hancock responded by saying the government "took the right decisions at the right time" and was always "guided by the science".
There was good news on the weekend as the English Premier League prepared to resume matches when it reported that no players or staff members had tested positive for novel coronavirus among 1,195 tests conducted.
The league has been suspended since March 13 but is set to kick off again on June 17 with 92 games remaining in the current season due to take place behind closed doors.
Both Scotland and Northern Ireland also had good news on Sunday with each reporting no deaths associated with COVID-19.
And IAG, the owner of British Airways, announced on Sunday it had launched legal proceedings against the government's plan to require passengers arriving from overseas to submit to a 14-day quarantine.
The company says the requirement, which starts on Monday, is illogical and unfair and threatens the future of the airline industry.
Elsewhere in Europe, Russia reported another 8,984 COVID-19 cases on Sunday, bringing its total to 467,673. Moscow said there were another 134 deaths across the nation, taking the total to 5,859.
In Paris, bars and cafes reopened on the weekend with measures in place that include spread-out seating, new cleaning procedures, and an abundance of hand sanitizer.